More of us are getting older and getting more long term conditions.
In these days of uncertainty it is sometimes  worth thinking about what we want in advance.
'Advance care planning is a process that supports adults at any age or stage of health in understanding and sharing their personal values, life goals, and preferences regarding future medical care. The goal of advance care planning is to help ensure that people receive medical care that is consistent with their values, goals and preferences during serious and chronic illness.'
International 
Consensus Definition of Advance Care Planning (Sudore et al 2017) 
Advance Care Planning is a way to think ahead, to describe what's important to you and to ensure other people know your wishes for the future. It's about helping you to live well right to the end of your life.
Thinking ahead, discussing with others and writing things down means that your wishes are known and respected, and you're more likely to receive the kind of care you want  in the place you choose if you become unwell, or if you could no longer speak for yourself.
It can also be changed if you change your mind.
Advance Care (ACP) for health and social care providers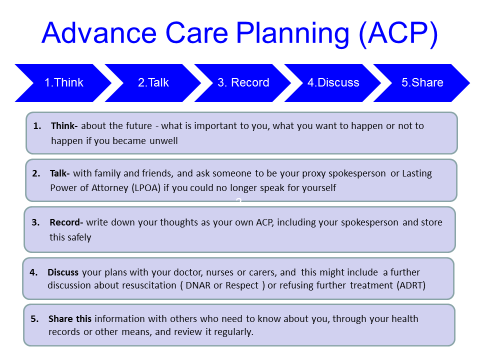 Advance Care Planning (ACP) is a structured discussion with patients and their families or carers about their wishes and thoughts for the future.
In essence ACP is an important yet simple conversation that can change practice and empower patients.
Health and social care providers play a key role in introducing ACP discussions at important stages of peoples' lives eg during admission to hospital if their condition deteriorates, with their GP or when admitted to a care home (Step 4 and 5 above).
But many people will already have considered these things (Steps, 1,2, and 3) even if they have not written anything down, so it is increasingly important to ask if they have discussed this or have an ACP already, to guide further discussions. 
We encourage all people to be given the chance to clarify their wishes, needs and preferences for the kind of care they would like to receive and the means of leading a fuller life meanwhile. These include
What you want to happen or an Advance Statements of preferences (AS) (not legally binding)
 What you don't want to happen and a few might wish to describe specific medical interventions they don't want to happen, through Advance Decisions to Refuse Treatments (ADRT), plus their thoughts on resuscitation (DNACPR or RESPECT) or if they want to be allowed to die naturally (Allow Natural Death/ AND). 
Who will speak for you – Most will also wish to say who might speak for the – proxy spokesperson or legal Lasting Power of Attorney. This is important particularly if it is related to the development of future incapacity, but is important for all to express their wishes.

Why do it?  What are the benefits of ACP?
Enables greater autonomy, choice and control – respects the person's human rights, enabling a sense of retaining control, self-determination and empowerment.

Improves the quality of end of life care provided for individuals and populations

There is greater concordance with wishes if they have been discussed, for example more people die in their preferred place of death

Reduced unwanted or futile  invasive interventions, treatments or hospital admissions, guiding those involved in care to provide appropriate levels of treatment

Enhanced proactive decision making reduces later burden on family and relieves anxiety

Enables better planning of care, including provision by care providers

Greater satisfaction, reduced anxiety and depression in bereaved relatives

The process can itself be therapeutic and enable resolution of relationships 

Enables deeper discussions and consideration of spiritual or existential issues, reflection on meaning and priorities and encourage resilience and realistic hope.
Loss of capacity and ACP
ACP is important for those with the ability to make decisions now, to plan ahead and to live life as fully as possible until they die. It is also important to anticipate a time when they may not be able to make such decisions in future, and to plan for this eventuality
Different Forms
Clik on the different forms to view :
What is a COVID-19 Advance Care Plan?
COVID-19 Advance Care Plan is not an advance decision (sometimes known as an
advance decision to refuse treatment, an ADRT, or a living will) to refuse a specific type of
treatment at some time in the future.
It is a page of information written by you, with your family or friends (or somebody else if you
need help). It is a place to write down quickly and in one place, the thoughts and wishes you
have on the care and support you would like if you develop severe COVID-19 symptoms.
This does not replace any advance care plan or care and support plan you may already
have.